Wedding in Zakynthos The gem of the Ionian Sea
Wedding in Zakynthos with the turquoise waters of the island in the background.
Zakynthos is an Ionian island located in western Greece.
The beauty of Zakynthos is unique.
It has rich vegetation and crystal-clear beaches.
Zakynthos is also called Zante or Fiore di Levante, a name given to the island by the Venetians which means ''Flower of the East'' due to the existence of 7,000 species of flowers. The whole nature smells like flowers in Zakynthos.
In Zakynthos, you can have your wedding on a beach or in villas with fantastic views, as well as in the villages or vineyards of the island.
The day after your wedding, you can rent a boat or yacht, go around the island, visit and take pictures at the most famous beach, Navagio beach. Navagio beach is the hallmark of the island.
Combine your wedding with your honeymoon on this truly dazzling Ionian island.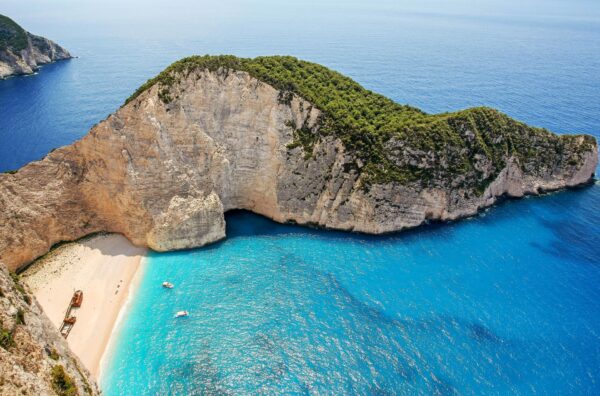 Venetian architecture is evident in Zakynthos.
Are you ready for a walk in the most beautiful neighborhood of Zakynthos?
Besides the coastal and narrow inner city streets, climb up to the historic neighborhood of Bohali, 2km from the center of Zakynthos, and admire the beautiful view of the city.
Bohali is located around the ruins of the old Venetian castle, on the top of the Strani hill, where Dionysios Solomos wrote the National Anthem. Admire the  neoclassical buildings, historic squares, arcades with impressive arches, balconies with traditional ironwork, churches with magnificent bell towers, picturesque alleys, and monuments.
Visit Bohali in the morning or evening, trying "frygania", a tasty and light Zakynthian dessert served in all the stores here.
Weddings in Zakynthos are a magical experience
In Zakynthos, you fall in love.
You fall in love with the sea and music, the wild nature and poetry, its culture, and flavors.
In Zakynthos, you fall in love with life.